What is Marketing Automation?
Imagine that instead of writing every email, or typing every SMS, that you want to send to prospective patients from scratch there was another way.  No more copying and pasting from numerous templates whilst still having to check the contact details, no more worrying about spelling and grammar, tone of voice…this is marketing automation.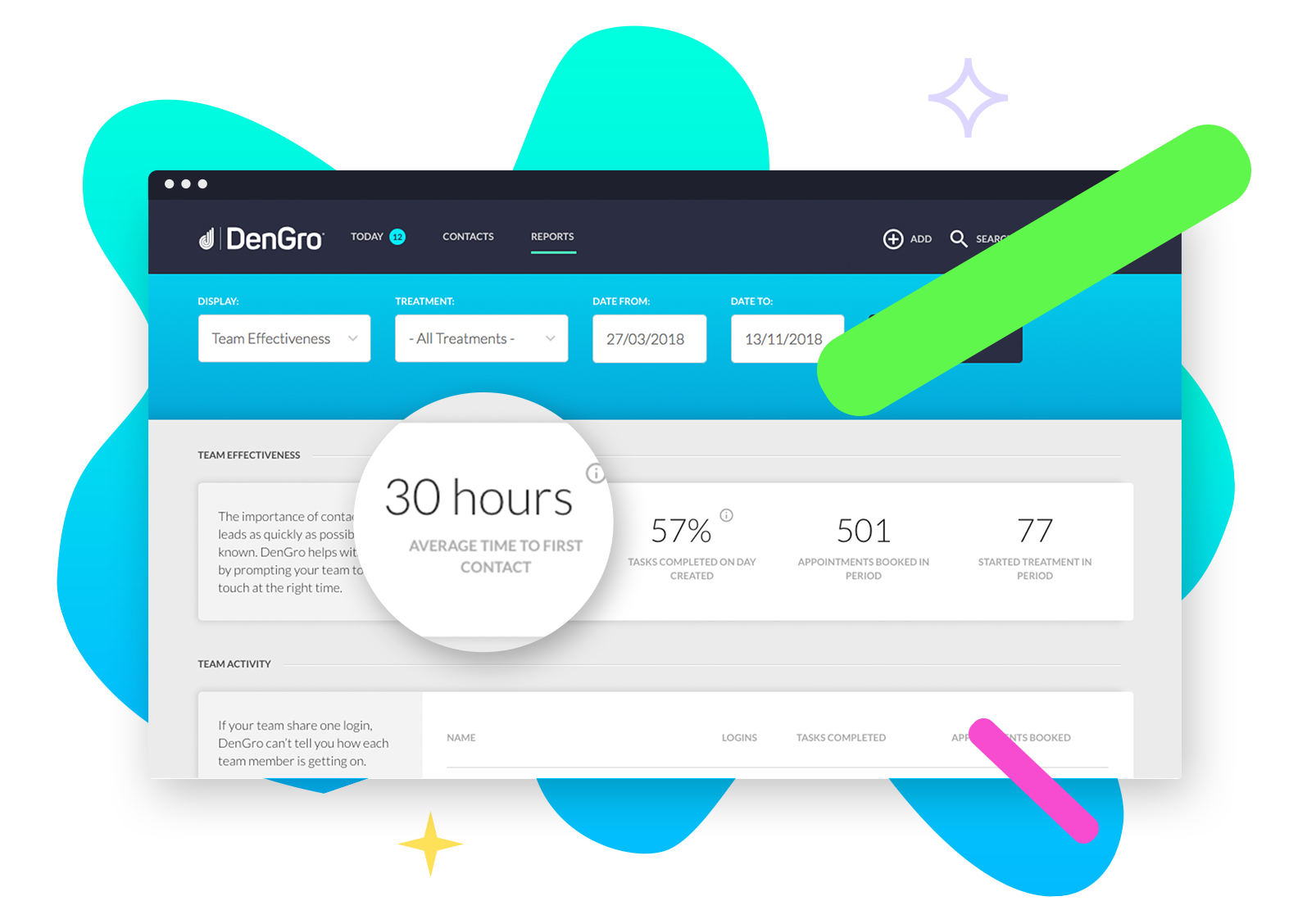 How does it work?
Marketing automation uses digital technology to make your marketing efforts more effective and efficient.  This is where messages are triggered based on time or customer action. These messages can be one-offs or form part of a campaign (a sequence of messages that share useful content with the prospective patient). Prospective customers will likely interact with your practice several times before becoming customers. In both cases messages are triggered based on time or customer action.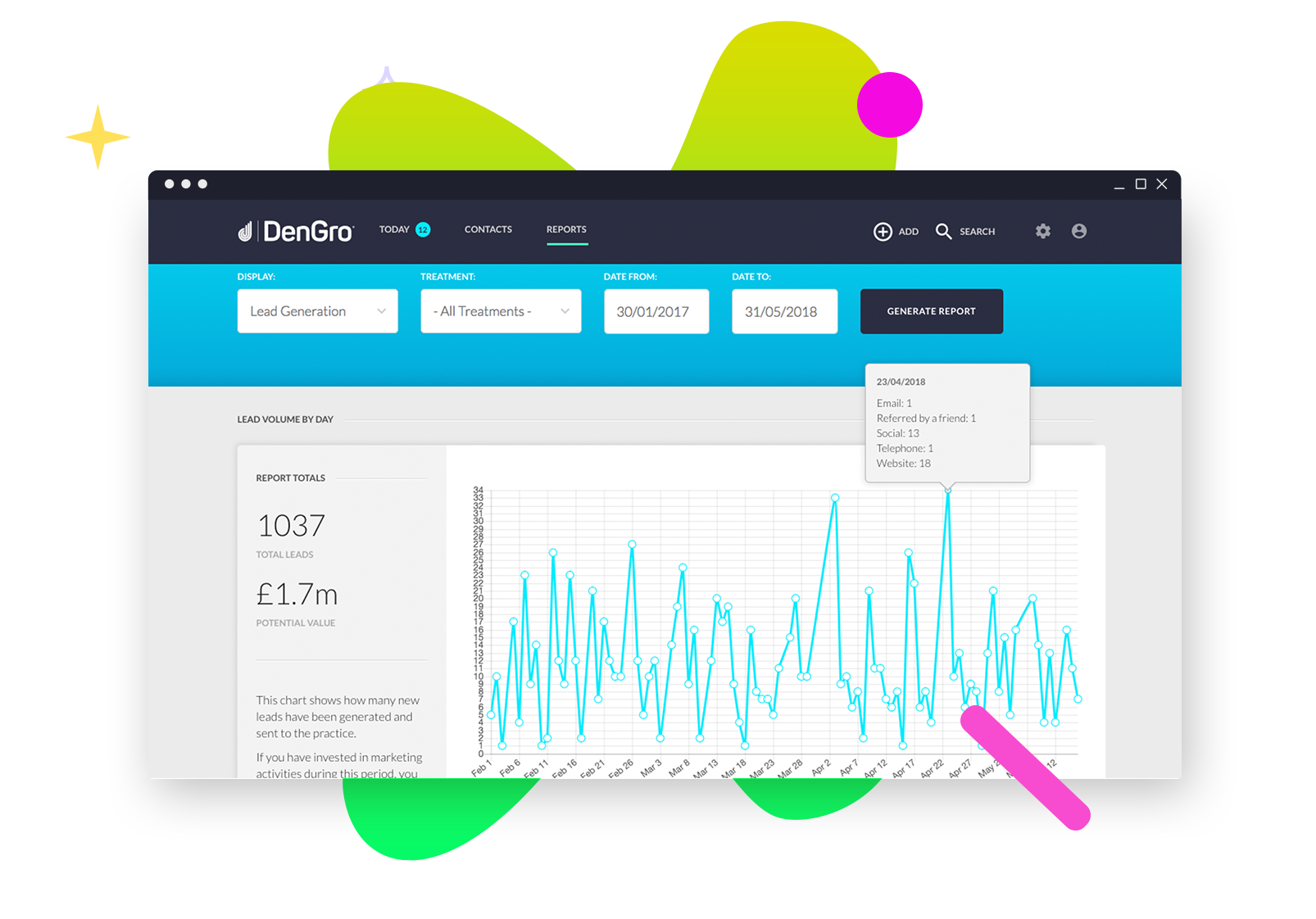 Here's an example
As an example, every time someone fills out an enquiry form on your practice website about a cosmetic treatment, a one-off SMS message is sent instantly to acknowledge their enquiry so they know they've been heard. This could then be followed up by a timed sequence of emails (sent a few days apart) providing useful information about that particular treatment and about your practice. This provides a consistent and valuable customer experience, keeps the prospect warm and informed and likely to be more ready for a conversation when your team-member gets in touch.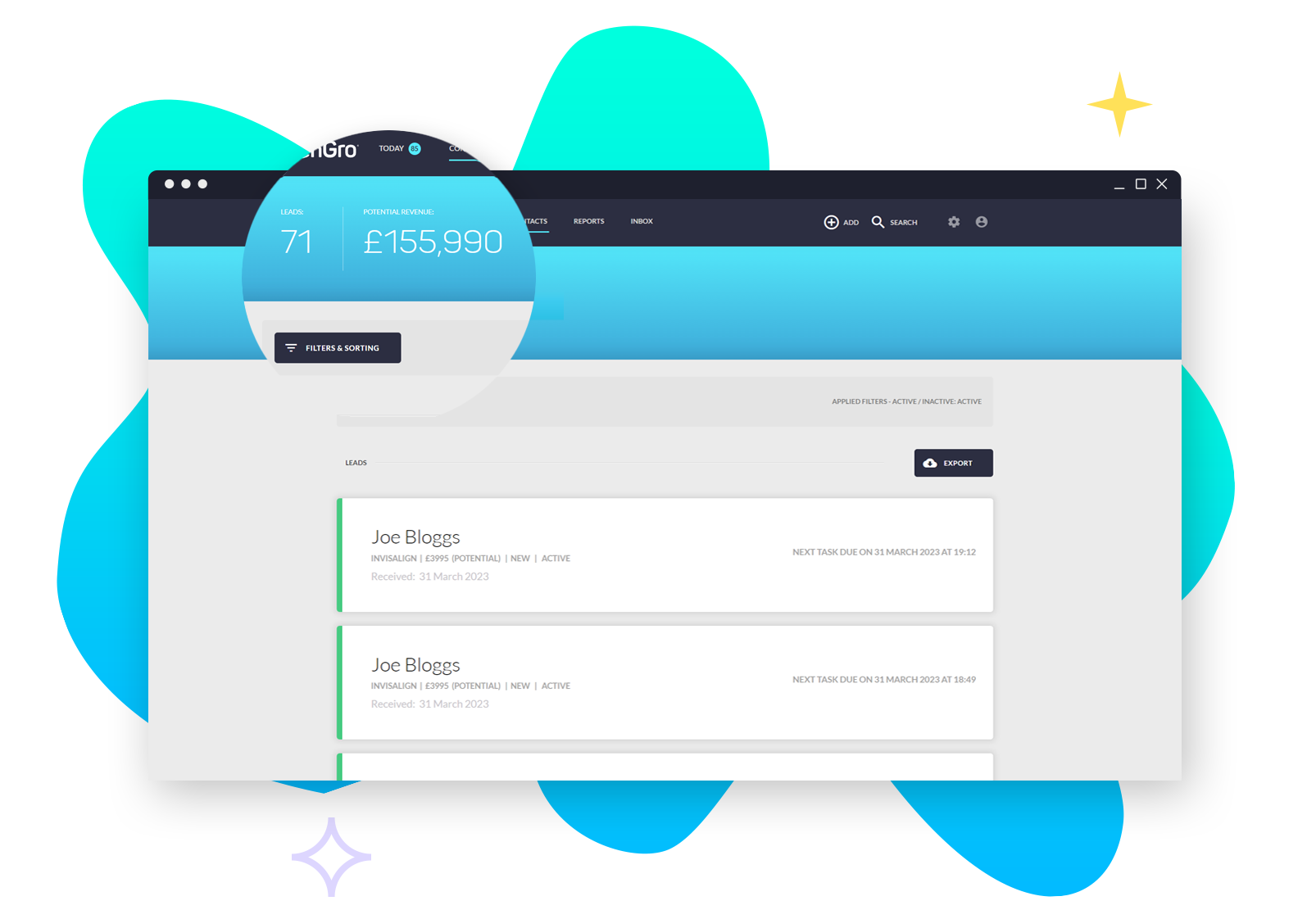 How can it help my practice?
Without marketing automation someone in your busy team has to track every form submission and then ensure they don't forget to acknowledge and follow-up with written communications.
Marketing automations does the heavy lifting of such repetitive routine activities, that time saved can be spent on more valuable activities such as conversations with prospective patients, existing patients and each other!  It also removes the risk of prospective customers waiting a long time to hear from your practice or worse – not hearing from you at all.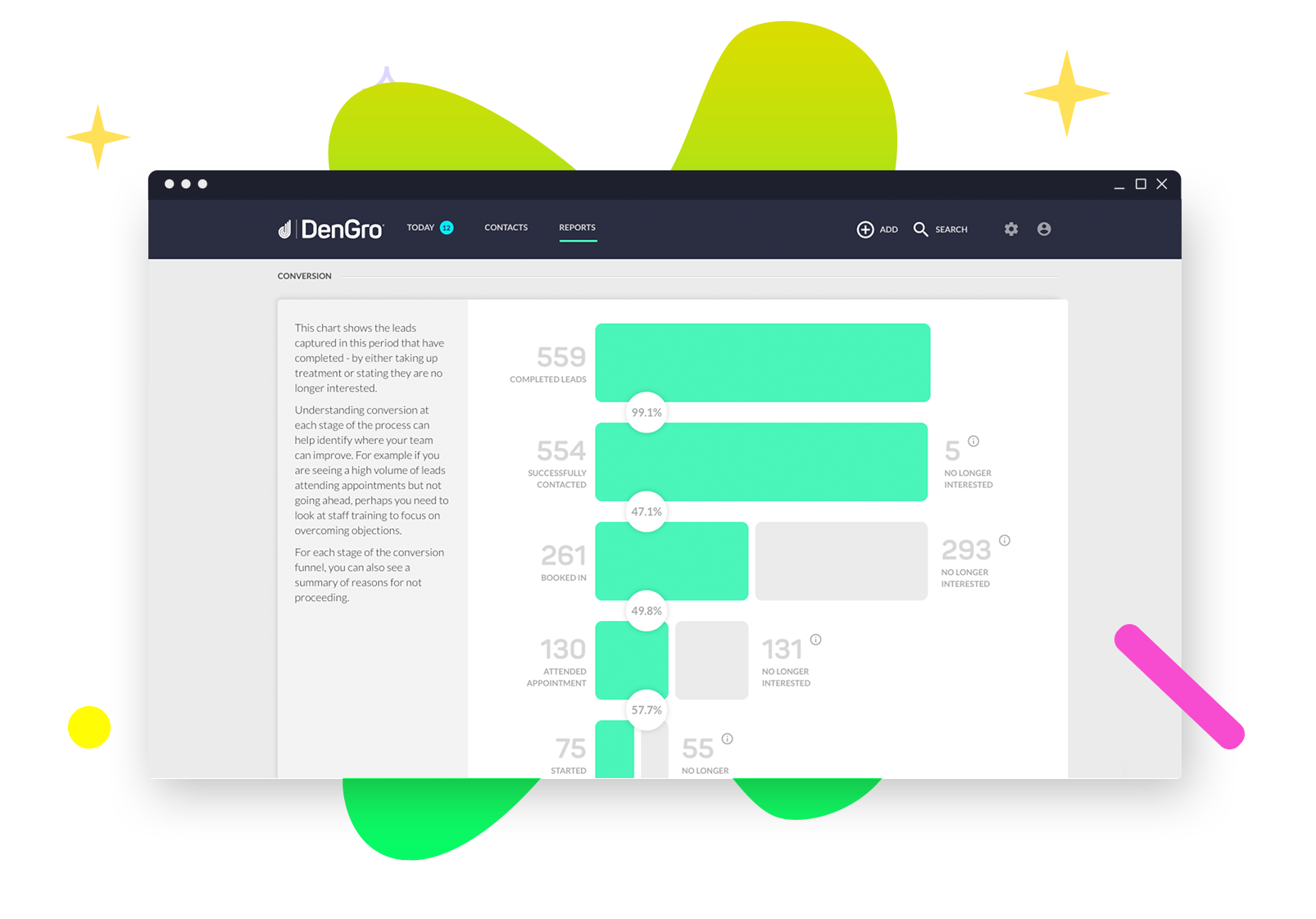 "

I really love DenGro, it's the best tool I have used for tracking leads "

"

I love it! A CRM that anyone can use. "

"

DenGro is by far the best CRM, it's very intuitive and the workflow is perfect for the dental industry. "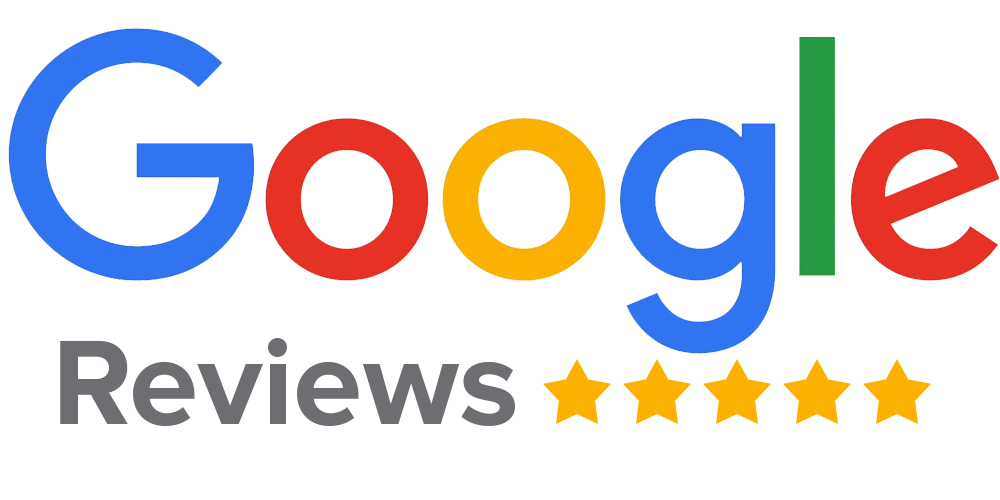 "

DenGro is fantastic! The interface is so easy, all the staff using it find it brilliant, the training was precise and the fact that help is on hand quickly makes it even better. So far so good! We would recommend it for sure! "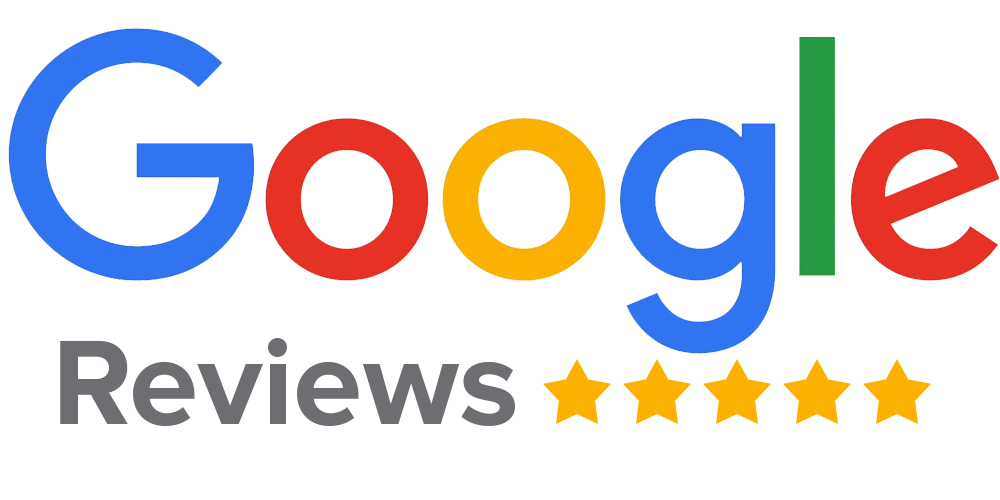 "

I've started using DenGro a month ago, but I already can see the difference it has brought. It so much easier to follow up the leads when everything is under one roof. "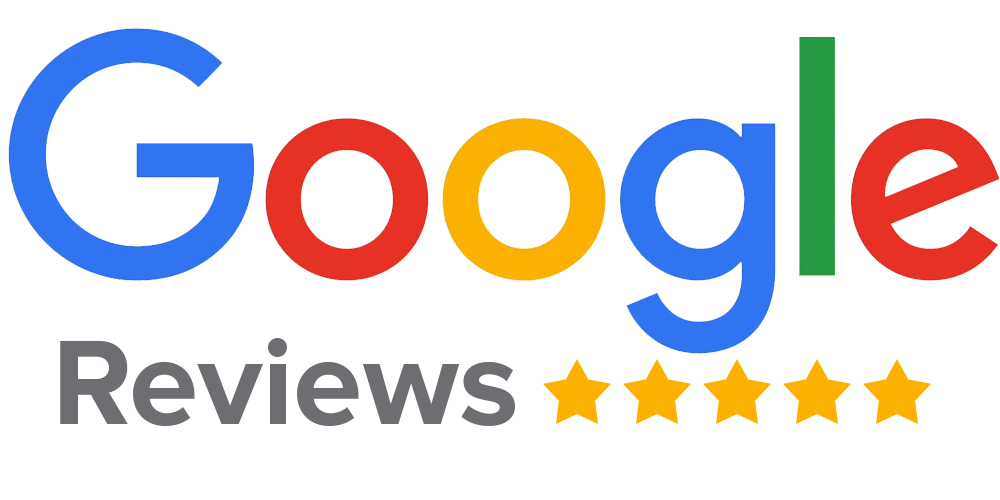 "

DenGro is the most effective new lead managing system. Professional, pre-written nurture massages that are sent out to potential patients and the best part is its all automated. Easy to use and provides a framework for all your staff. "

Start converting more leads into patients today
Catch, nurture and convert leads to treatment the easy way.