Published: 09/12/2022
Read time: 8 minutes
Welcome to your new 'Inbox' allowing two way email communication with prospective patients, without ever needing to leave DenGro. 
We know that making contact with your leads quickly is key to getting them booked in for a consultation. DenGro already sends automated nurturing emails and SMS messages but making direct contact by yourself at the practice also helps build that relationship and make a strong first impression. This is available as an early access feature if you are on our latest Pro Plan (£249pm)
Key Features
Send and receive emails to your leads with a dedicated inbox
Create your own email signature, to tie in with the practice brand/website
Create email templates saving the team valuable time and ensures consistent communication with leads
Capture any email responses from the lead within the inbox and lead profile page, ensuring any team member can respond and help.
Getting started
When logging into DenGro all your team members will see a heading in the menu called 'Inbox'

There will be a welcome message from DenGro detailing some more information on how two way email messaging will work.
To send an email to a lead either click the 'EMAIL' button within your new/follow up lead tasks on the Today page or on the lead profile page.




Once the inbox loads you can then start a conversation with a heading and message.

When the lead replies these responses will show up in the same thread, these can be viewed via the inbox as well as on on the lead profile page.

Behind the scenes, any emails you send will come from a new dedicated email address: conversations@app.dengro.com.
When leads see and reply to your emails, they will see this email address with the display name set to your practice name.
All of DenGro's automated, pre-written, lead nurture messages will also now be sent from conversations@app.dengro.com. Any replies to the automated messages will also now show up in your DenGro inbox, and not your practice's email inbox, like they did previously.
Creating your Email Signature
Click the Inbox Settings button and select 'Email Signature'.
Here you can build your email signature with the key contact details required. Drag the building blocks on the right hand side to create your signature. If you have added your logo and social media links on the Practice Details page these details will pull through when you select the relevant block.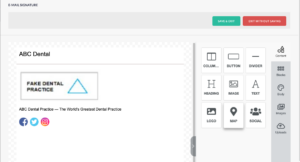 Create a test lead
Create a dummy lead via the 'Add New Lead' button or submit one from a connected form. Then email your test lead so you can see how the email signature and content appears when it hits your inbox. Then respond back and see how the reply looks in on the lead profile page and in the inbox.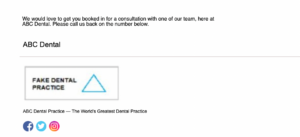 Once you are happy, you are ready to get started and email leads directly out of DenGro!
Any unanswered responses will show in the inbox by being in bold and a number.
Don't forget you can also use the 'Search' function in the inbox to find an email thread by entering the lead's name.
Create an Email Template
Email templates are a great time saver and can be used if you would like to have a saved response that you can send automatically, rather than typing out each time. For example you may have an initial email you would like to send to a prospective patient to introduce them to the practice and the team member who will be making contact.
Email Templates can be found under the 'Inbox Settings' in the top right corner of the inbox.
Select 'Create Email Template' and then name your template ie 'Invisalign Welcome Template'. This is an internal name and won't be shared with the lead.
Now build your template by dragging and dropping the blocks on the right hand side.
When you are happy you can preview it via the icons at the bottom left corner. Once happy with your template press 'Save and Exit'.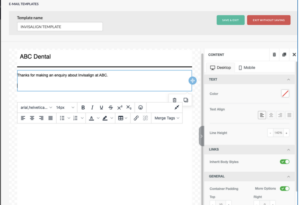 You now have an email template you can use to send to a lead in future.To use a template click the 'Use Template' button in the bottom right hand corner of your email, confirm the template you want to use and this will then be sent to the lead automatically.