Published: 06/12/2022
Read time: 5 minutes
Tracking the effectiveness of your dental practitioners
The Team Effectiveness report has always shown how well your FoH team, Lead Coordinators and/or TCOs are performing individually when it comes to key metrics such as completing tasks, managing leads and booking consultations.
However, your practitioners also play a vital role in the new patient journey. That's why the team effectiveness reporting in DenGro now enables you to track the performance of every team member who interacts with a lead from enquiry received to treatment started.
The team effectiveness report page now has a separate dashboard displaying practitioner performance.
Our NEW practitioner report includes:
Consultations Booked
Consultations Attended and %
Treatments Converted and %
These metrics can be filtered by date, by treatment type, by channel, by status – enabling you to really assess and understand performance in detail where necessary.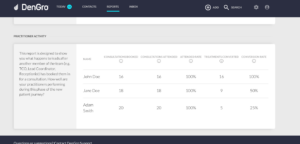 Where can I find this report?
This report can be found within your 'Team Effectiveness' report. Please note you will need a Manager role to access it.
How do I set up my practitioners?
Your practitioners will need to be set up with a role in DenGro to ensure we can report accurately on their performance. Until they have a role your data for consultations and conversion rates will show as being 'Unassigned'.
Please watch this short video on how to set them up with a 'Practitioner' role.
When an appointment is booked and attended your team will be prompted each time to confirm the relevant practitioner allowing us to report these metrics. The list of practitioners will display in the dropdown.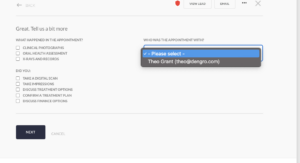 That's it, once they are set up with a role, your team can ensure they capture this detail when managing the lead. These metrics will then allow you to track their performance and truly understand how effective your practitioners are.