Published: 25/09/2022
Read time: 5
A faster, more secure and efficient way to manage leads captured directly from your Facebook campaigns.
You can use DenGro to collate and track leads, created from your Facebook lead ads with our Facebook integration. This means you can set up a Facebook advertising campaign and wait for your leads to head straight into DenGro. It's as simple as one, two, three:
Enable integration with Facebook.
Link your Facebook Lead Ads Form.
Watch leads roll into DenGro.
Benefits of integrating your lead ad forms
No more lengthy CSV downloads. You won't have to manually transfer or download your leads from Facebook, they'll head straight into DenGro.
Increase lead response time. The process is faster, which means your practice can respond to leads faster.
Improved communication. The conversation between you and your prospective patient begins straight away, which ultimately means they are more likely to convert.
Better reporting. See where your leads are coming from, and how well your Facebook ads are performing.
Steps to take in Facebook.
The first step is to create a Facebook Lead Ad Form.
Before you can send all your leads from Facebook into DenGro, you'll first need to set up what's known as a Facebook Lead Ads Form. You do this from your Facebook account, and you'll need to have Admin status (or ask nicely for permission from whoever in your practice has access). Setting up a Facebook Lead Ads Form is super simple.
Log in to Facebook and follow these instructions.
Don't forget that Lead Ad Forms require you have a link to your Privacy Policy, so make sure that your practice has an up-to-date Privacy Policy available. This is part of the updated GDPR legislation. To find out more about DenGro and GDPR, read more.
How do I connect up a Facebook page and Lead Ad form?
Additional steps if connecting up multiple Facebook pages (Groups)
You may want to connect up multiple pages if your practices are part of a group.
Follow the steps in the video above PLUS

Select in Facebook ALL the pages you will want to be connecting to DenGro. This will ensure that you can then enable the relevant page at an individual practice level via the blue toggle button.
Ensure all permissions are toggled on: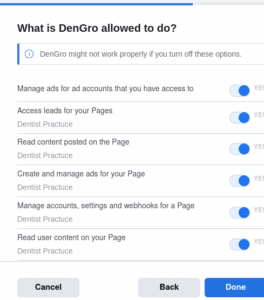 Confirmation will be given that your Facebook pages are now linked to DenGro.
If you don't see the Facebook pop up appearing automatically you may need give permission for data to be given to DenGro via the 'Settings' and Business Integrations' section in your Facebook account. Here you can select the 'View and Edit' button for the page and under 'Show a list of pages' ensure that the page you want to connect is ticked.
Now log into each practice account ,one by one, so you can enable the integration to the relevant matching page.
On the Practice Integrations page this will now show the available Facebook pages you manage and you select 'Enable' on the Facebook Page that corresponds to the practice account you are in. Toggle the button on the right-hand side and it will turn blue.
Then complete the remaining steps, the same as you do for connecting one Facebook page.
Additional Features for Groups
If you are a group you have may have different requirements based on your Facebook set up. You may have one Facebook page for your entire group or each practice may have its own Facebook page.
If you have a Group Facebook page you may want to ensure that the leads from your lead ad form only go to one particular practice, for example if it's a campaign for a specific treatment or an open day.
When creating a lead ad form under the the tab called Settings add the parameter name of assignment_token and then in the Parameter value add the token number for the practice you want to receive the leads. The practice token number can be found on the relevant practice's Practice Integrations page. By including this detail on your form only this practice will receive these leads.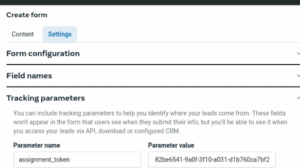 We also support Facebook store locations, if you want to include a list of practices as a dropdown on your lead ad form this will allow the lead to go directly to that practice, based on the selection. More details on Store locations can be found here
Good to know
Facebook will only hold your lead information for 90 days. If you haven't completed your 'Link your form' task, then leads older than 90 days will disappear.
You can use one form for multiple adverts on Facebook, so it's worth connecting your form straight away – once it's done, you don't have to worry about it. If you disable your Facebook Pages in Integrations in DenGro without first connecting any Facebook forms, leads that have not yet come into DenGro will be lost.
Troubleshooting
If your test leads are not appearing in DenGro this is likely due to Facebook not being unable to to complete this process and pass your lead data to us. Typically this will be an issue within your Facebook account so it's important to troubleshoot with Meta/Facebook in the first instance. When testing a lead with the testing tool your dashboard in Facebook will let you know if the lead was sent successfully or display an error message if there is any issue with sending your leads out so you can address and fix.
Examples of error messages are:
CRM access has been revoked from Lead Access Manager.
This error appears if the CRM access in Facebook has been removed or revoked by an account admin. This help article from Facebook explains more on how to resolve:
https://www.facebook.com/business/help/540596413257598
The page admin who installed the app has ceased being an admin
This error appears if the person who enabled the integration in DenGro initially has since been removed as a page admin on Facebook. You will need to ask the person who enable the integration initially to remove it from DenGro or if that's not possible to do then let us know so we can look to remove it for you. Once the integration is removed then it can be reenabled by someone who does have an admin role on the Facebook page.